As a service and resource for our valued clients, we are developing a series of blog posts which are meant to be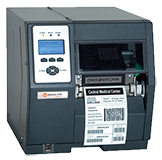 resources with valuable information, downloads, pdf's etc.
This week we bring you the Datamax-O'Neil H-Class Mark II Thermal Printer PDF user manual and printer drivers download.
Download the Datamax-O'Neil H-Class Mark II Thermal Printer PDF User Manual
Download the Datamax-O'Neil H-Class Mark II Thermal Printer Drivers
Description:
The H-Class is robust enough for demanding manufacturing, shipping and processing environments, yet precise enough for high-resolution graphics and small electronic labelling applications. Examples include: compliance labelling, shipping and receiving, product identification, inventory control, asset tracking and manufacturing
Specifications for H4212 TT Range:
Printer Type: 
• Thermal Transfer.
---
Print length range: 
• 0.25" – 99.99" (6mm – 2539.75mm); values vary with printer configuration
---
Maximum print width:
• 4.09" (103.9mm).
---
Print Speed:
• 12ips (304mm/s)
---
Print Resolution: 
• 203 dpi.
---
Front Panel Display: 
• 128 x 64.
---
Memory: 
• 16MB SDRAM/8MB Flash
---
Barcodes: 
• Linear: Code 3 of 9, UPC-A, UPC-E, Interleaved 2 of 5, Industrial 2 of 5, Std 2 of 5, Code 11, Code 93, Code 128, EAN-8, EAN-13, HIBC, Codabar, Plessey, UPC 2 and 5 digit addendums, Postnet, UCC/EAN Code 128, Telepen, Planetcode, FIM, USPS-4 State
• 2D Symbologies: MaxiCode, PDF417, USD-8,Datamatrix, QR Code, Codeablock, Code 16k, Aztec, TLC 39, Micro PDF417, GS1 Databar
---
Resident fonts: 
• Ten alphanumeric fonts from 2.5 to 23 point size, including OCR-A, OCR-B, CG Triumvirate ™ smooth font from AGFA ®
• Scalable Fonts: CG Triumvirate Bold Condensed, CG Triumvirate & CG Times with Cyrillic, Greek Arabic and Hebrew character support.
---
Downloadable font types:
• True-Type, Bitmap
---
Character set:
• Over 50 resident character sets; Unicode/UTF8 support.
---
Font expansion/rotation: 
• All fonts expandable vertically and horizontally up to 24x; fonts and graphics can be printed in four directions: 0°, 90°, 180° and 270°s.
---
Graphics supported: 
• PCX,.BMP, IMG and ASCII format files
---
Reversible field/mirror image: 
• Any font or graphic field can be printed as a normal or reverse image.
---
Media type:
• Roll-fed: 8.0" (203.2mm) O.D. on a 3.0" (76.2mm) core
• Fan-fold stock: accepted from rear and bottom of printer
• Die-cut or continuous labels
• Perforated or continuous tag/ticket stock
---
Media width: 
• 1.00" – 4.65" (25.4mm – 118.1mm)
---
Minimum media length:
• Tear-off and rewind modes: 0.25 (6.35mm).
• Peel and cutter modes: 1.0" (25.4mm).
---
Media thickness range: 
• 0.0025" – 0.01" (0.0635mm – 0.254mm)
---
Media sensing: 
• "See through" for liner-backed die-cut labels and tags
• Reflective sensor for black mark label media
---
Label backfeed: 
• For use with optional cutter or present sensor
---
Ribbon: 
• Width range: 1.0"- 4.5" (25.4mm – 114.3mm)
• Core 1.0" (25.4mm)
• Length: 1968' (600m)
• Coated side in and coated side out
---
Communication Ports:
• Standard:Serial RS232, Parallel Bi-Directional, Ethernet-Wired LAN 10/100, Wireless , USB2.0 compatible
---
Software
• DMX Config:Complete printer setup utility
• DMX NetManager
• Embedded Network Web Pages
• Windows ® Drivers – NT, XP, Vista
---
Dimensions: 
• 12.62" W x 13.0" H x 18.9" D (321mm x 330mm x 480mm)
---
Weight:
• 18.2Kg